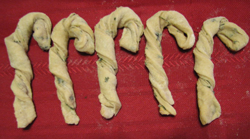 These are the perfect treat to give your dog while you are enjoying a holiday meal. They also make a festive gift for any pet lover; just wrap them up in some pretty cellophane, put them in a cookie tin, or stick them in a stocking, and voila! You have a unique present for the host or hostess at the next holiday party.
An added bonus, the peppermint and parsley help with bad breath, which will thrill your guests.
Ingredients:
1 cup flour
½ tsp salt
1 tablespoon parsley
1 ½ tablespoons flaxseed oil
¼ teaspoon peppermint oil
½ cup low-sodium chicken broth
Parchment paper
Directions:
Mix flour, salt, and parsley together in mixer.
Add flaxseed and peppermint oil, mix.
Add chicken broth; mix until all dry ingredients are moistened
Roll dough out on floured surface to a 1/8" thick sheet.
Cut into ¼ – ½" inch strips.
Fold strips in have and twist together, curving one end over to make a candy cane shape.
Place on cookie sheet lined with parchment paper
Bake at 375 for 15-20 minutes
Makes approximately 10 candy canes
Allow to cool thoroughly before giving to your dog!
Previous Post


« What Dog Breeds Have Ears That Stick Straight Up?
Next Post


Jean Dodds Trailblazer for Veterinary Care »