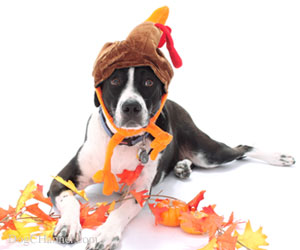 We all want to spoil our pets during the holidays, but giving your dog table scraps can be dangerous. This do-it-yourself dog treat recipe for Paw Print Pumpkin Biscuits is safe for your furry friend and is a healthy way for your dog to share in the holiday baking.
The recipe comes from Roberta Deen of Capers Catering Company in Los Angeles. She is one of the chefs who contributed to the book The Culinary Canine: Great Chefs Cook for Their Dogs- And So Can You!
Easy to make our dogs gobbled them up. They would also make great dog lover gifts to take to your friends this holiday season or any time of year. Package them up in cellophane or a nice tin and you'll have your friends barking for the recipe.
Ingredients:
1 cup plain pumpkin puree (fresh or canned)
1 cup peeled, 1/4" diced, lightly blanched fresh pumpkin
1/2 cup roasted pumpkin seeds, coarsely chopped
1 cup quick-cooking oats
2 cups whole-wheat flour
1 cup all-purpose flour
1/2 teaspoon cinnamon
1/2 cup molasses
1/2 cup honey
1/2 cup unsweetened applesauce
1/2 cup canola oil
Directions:
Preheat oven to 325 (300 if using a convection oven)*
Mix above ingredients in a large bowl
Add water to achieve a chocolate-chip cookie like consistency
Line baking sheets with parchment paper
Drop by teaspoons (for the petite puppies) and Tablespoons (for the big guys) onto baking sheets about 2 inches apart
Flatten into rounds with a fork in a cross-hatch pattern
Bake for 10 minutes
Switch the baking sheets front to back, top to bottom and bake for 5-10 minutes longer until golden and firm – adjusting time for teaspoons (a bit less) and for tablespoons (a bit longer)
Turn off oven and leave the door open until the treats cool completely
Yield depends upon size of the cookie
Treats should be fed in moderation. Consult your veterinarian any time you are making changes to your dogs food or diet.