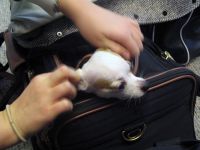 Michelle Christner of Pittsburgh figured she'd save on kennel costs by taking her Miniature Pinscher foster dog, Cricket, on her flight to Florida. After all, she never had trouble flying with her Yorkshire Terrier-Poodle mix Mary Poppins, or her son's Toy Poodle, Lil Bo Beep. Second thoughts emerged when she arrived at the airport and introduced Cricket to the leather flight bag meant to house her for several hours. After a five-minute struggle and some shoving, she finally got the feisty 8-pound pooch into the bag.
"Everyone within a mile of us is now hearing the frantic barking of what appears to be a completely insane Tasmanian devil disguised as a Min Pin. She was barking like she was going to attack someone — anyone," recalls a mortified Christner. Her foster dog crooned at her feet throughout the flight — despite medications approved by her veterinarian, but often discouraged by others, including the American Veterinary Medical Association.
"She barked and clawed at the [bag's] netting to actually make a hole so she could stick her head through," Christner says. Ignoring a chew toy, the pooch "chewed on my shoe."
The experience taught Christner some lessons about the right and wrong way to pursue canine air travel — a subject that divides animal lovers.
To fly or not to fly?
Breeders and dog fanciers routinely fly dogs without trouble. Airlines assert that air travel is safe for dogs, as does the Air Transport Association of America. But American Kennel Club spokesperson Lisa Peterson adds a caveat: "We certainly believe it's safe to fly with your dog on any commercial airline flight, provided the owner takes certain pre-flight precautions."
Several humane organizations and some veterinarians warn of hazards for dogs in the cargo holds of planes, citing incidences of dogs injuring themselves as they claw at the crate to try to escape or escaping when crates open accidentally on a tarmac. Don't fly pets if possible, especially if the pet isn't small enough to fit in a carry-on kennel you can take into the cabin, advise the American Society for the Prevention of Cruelty to Animals and the Humane Society of the United States.
Since record-keeping by the U.S. Department of Transportation began in May 2005, 30 pets became injured during air transport, 17 pets became lost and 49 pets died, according to a DOG FANCY review of federal records as of March 2007.
"I much prefer having the dogs travel with the owner inside a car or van because they can take breaks when appropriate, stretch their legs, and are being handled by people who know and love them," advises Texas A&M University animal behaviorist Bonnie Beaver, DVM, American College of Veterinary Behaviorists diplomate, and past president of the American Veterinary Medical Association. "While many dogs travel successfully by air, I know of the horror stories where problems occurred."
But, recognizing flying is sometimes unavoidable, experts advise that there is a lot to think about if you're going to try it.
Practical advice
1. Definitely fly your puppy in the cabin as you coo and feed him tiny treats like beef extract on the tip of your finger, advises Tufts University veterinary behaviorist Nicholas Dodman, BVMS, a diplomate of the American College of Veterinary Anesthesiologists and the American College of Veterinary Behaviorists.
For a young pup during the crucial formative time in his life, being jostled in a cargo hold as a noisy plane takes off and lands is akin to taking Mr. Toad's Wild Ride at a theme park. Any "horrendous experience," Dodman says, "can have long-lasting, lifetime effects."
2. Choose the quickest direct early-morning or evening flight to ensure your dog travels when temperatures are favorable in the cargo hold and on the tarmac — and fly direct to ensure he doesn't end up in a different city from you. Avoid flying during extreme weather — hot or cold.
"In general, I discourage people from flying with dogs that cannot actually be in the cabin with them," Beaver says. "There are air traffic delays that can become real problems, and I certainly discourage dogs from flying if there is not a direct connection from origin to destination. Humans have enough problems making connections."
3. When buying a crate or kennel, be sure it's large enough for your dog to stand up, turn around, and lie down in. Look for a sturdy one with locking bolts and strong metal doors. The strongest have four metal rods that fasten the door to the container, the federal government says. Further secure the door by adding tie wraps that can be cut in an emergency.
Many injuries, deaths, and escapes happen when dogs chew their way out of a plastic crate, push the door open, or take advantage of a broken or improperly latched lock. For example, a Golden Retriever named Skipper "lost teeth, cut his gums, and lost toe nails" as he chewed and scratched to try to get out of his kennel during a cross-country flight to Seattle in June 2006, according to a Continental Airlines report to the federal government. When another dog — a Greyhound named Gianna — arrived on a December 2006 Alaska Airlines flight to Seattle, she was discovered with her mouth and jaw stuck on the front gate of her kennel.
4. At home, get your pet accustomed to the travel carrier or kennel for at least one month, lest he put up a fight like Christner's Cricket.
Joan Carlson, executive director of Florida's Humane Society of Vero Beach & Indian River County, took deliberate steps to acclimate her cousin's new mixed-breed puppy, Little Bella, for a flight from Orlando to Philadelphia: She put special treats and toys in the carrier, as well as Bella's meals. She let Bella walk in and out of the carrier at will. Gradually, as days wore on, Carlson closed the carrier to make Bella stay inside for a short time, then increasingly longer periods. Carlson eventually took Bella in the carrier on a short car ride to get her accustomed to the idea of motion. When the pair finally flew, Bella "was a little whiny at first," Carlson says, but "it was her safe place. It was very easy to adapt to being in a crate and being on a plane."
5. Don't assume your pet will be accepted on the flight. Reserve a space for your dog — whether he travels in the cabin or in the cargo hold. Airlines have limited spots for animals.
6. Be sure your dog is fit to travel by getting him checked by a veterinarian a week to 10 days before your trip, as airlines require. Realize that pre-existing conditions could become a problem anyway. For instance, older dogs can have borderline kidney disease without their owners realizing it. They compensate by drinking lots of water, Dodman says. If such a dog gets on an airplane without free access to water, Dodman says, "you can precipitate renal failure."
7. Don't feed your dog for four to six hours before flight time, HSUS advises. A small amount of water before the trip is OK. Freeze a margarine tub filled with water and place that ice — not water — in the kennel's water tray. That way, water won't dump into the kennel and onto your pet, but hydration will be available as the ice melts.
8. On your dog's collar, attach two pieces of identification — a permanent ID with your name and home address, and a temporary ID with the phone number where you can be reached during your travels. Also helpful: a microchip or tattoo as permanent ID. The more ID, the better.
Know your dog
As with many situations, it's important to trust your gut when considering flying your dog. If you suspect your dog is a nervous Nellie who couldn't take the flight, you're probably right.
The drug maker Novartis Animal Health estimates that 15 percent of dogs suffer from some degree of separation anxiety, which, Dodman says, makes them poorer flight candidates. "Those dogs can't be left alone," he says. "They can actually chew through metal. They're like Houdini dogs."
Christner, for one, says her foster dog, Cricket, won't be taking another plane trip. "I don't think she was cut out to fly. She did not like to be confined and it made her crazy," she says. Unless her name has been blacklisted after the Cricket fiasco, Christner says she will continue to travel with her other two dogs, "as they are true travelers."