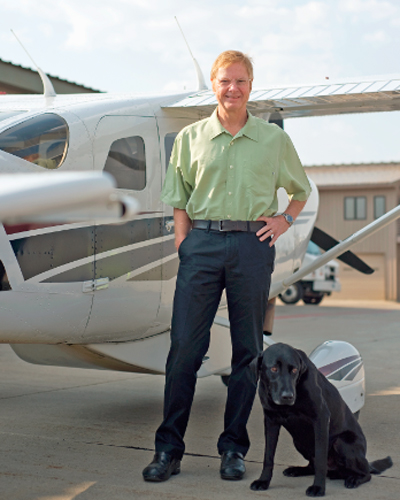 Doyle, an 11-year-old black Labrador Retriever, spends a lot of time in the air these days with his owner, retired surgeon Peter Rork, M.D.. But Rork's no ordinary pilot: His cargo is almost strictly of the canine variety. After retiring from practicing medicine, Rork co-founded Dog Is My CoPilot Inc. in 2012, a nonprofit organization based in Jackson Hole, Wyo., dedicated to flying dogs from low-adoption, high-kill areas to areas with shelters able to place the dogs in homes with loving families.
The most rewarding part, he says, is the follow-up photographs when he sees the puppies that are in the arms of the children with their big smiles and new families. "It's a win-win situation," Rork says. "I feel like Santa Claus with my sleigh every time I taxi away with the dogs."
But unlike that other legendary flyer, it's not a bright-red-nosed Rudolph at the helm of Rork's "sleigh." Rather, the cockpit's shotgun seat — and the sidekick duties — belong to his wet-nosed "co-pilot" Doyle.
Since Dog Is My CoPilot was founded, Rork and Doyle have logged more than 400 hours, and just this past February, they flew their 1,000th dog to safety. All that flying gives Rork plenty of quality time to spend with his canine pal. "He just curls right up and does fine," he says, adding that dogs, like people, adjust to the altitude without issue.
"I like the company," Rork says. "He's my best friend. We're really a team, and Doyle truly is my co-pilot."
Working Overtime with Canines
Rork certainly isn't alone; many workers report having better days when they're allowed to work alongside their canine companions. A recent study by Virginia Commonwealth University found that employees who brought their dogs to work experienced a reduction in stress level scores of about 11 percent during the workday, while workers who didn't bring their dogs experienced up to a 70 percent increase in those same stress-level scores.
Dogs also help us interact better with one another, an important attribute even — and maybe especially — in high-intensity workplaces. "Dogs have a way of softening the environment," says Alan Beck, Sc.D., director of the Center for the Human-Animal Bond at the Purdue University College of Veterinary Medicine in West Lafayette, Ind. "So if you're having a meeting, a dog gives a focus of attention and takes some of the pressure off. You now have something common to talk about besides how much you're charging me, or why you want this raise, or why a particular law won't work."
That's how it is for U.S. Rep. Ken Calvert of California's 42nd District, who brings his 6-year-old MiniatureDachshund Cali to work on Capitol Hill every day.
"Sometimes, you know, people come in here that may not agree with me," Calvert says. "Almost everybody loves dogs, so Cali takes the edge off."
Calvert remembers a specific time when a four-star general came into his office to discuss serious business. "Cali just launched into the office and jumped on top of him and started licking his face," he says. "He had to smile at that. I could tell he loved dogs, too, so we knew he was a good guy."
As chairman of the Interior, Environment, and Related Agencies Subcommittee and a member of several other congressional committees, pressure often looms large for Calvert. Having Cali around, he says, provides some relief. On a typical day, Cali can be found springing onto the laps of staffers and roving from bed to bed — both Calvert's Legislative Director Rebecca Keightley and Deputy Chief of Staff Tricia Evans keep dog beds by their desks and dispense a hearty amount of treats. During the workday, Cali has free rein, often hopping up on Calvert's couch to play or nap, or propping herself right up on his desk to, as Calvert puts it, "help with paperwork."
Less Stress, More Wags
Having dogs around also provides physical benefits. That's certainly the case for Matthew Offord, a Conservative Member of Parliament for Hendon, a suburb of northwest London. While he spends many of his days out meeting his constituents, on office days, Offord often brings his 3-year-old Jack Russell Terrier Max to work. Offord's workplace isn't quite as open to dogs as is the U.S. Congress. "Dogs, except guide dogs, are not generally allowed in the Palace of Westminster, but one or two slip through," he says.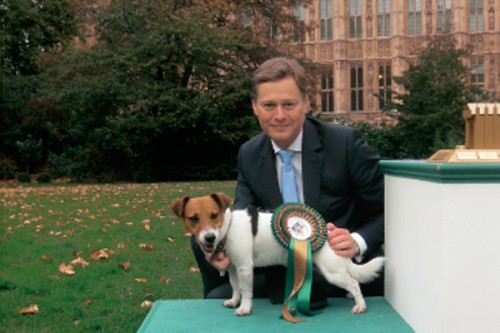 Why bring Max along? "Parliament can be a very fast moving, and at times stressful, environment," Offord says. "There is nothing quite like giving a dog a pat to relieve stress. Taking Max out for walks lets me have 20 minutes to myself to mull things over and think things through.
"Taking him for a quick walk also offers an opportunity to get away from sitting at a desk to get a bit of exercise," he says, "both for me and my staff, who enjoy taking him for walks if I am in the chamber or a meeting."
For Offord, there are social benefits, too. "When I am out in the constituency, Max often acts as an icebreaker," he says. "I think some people feel a lot more comfortable when they can share stories with me about their dogs as well. He's a particular favorite with the children at a residential care home, who sometimes find it easier to communicate with Max than the adults around them."
Four-Legged Counselors
The uncanny ability of dogs to help people interact with one another and relax in stressful situations is one of the many reasons neurologist Gayatri Devi, M.D., director of New York Memory Services in New York City, brings her 4.5-year-old German Shepherd Dog mix Lola and her 5-year-old Boxer mix Gage to work with her each day. "I think the idea of a dog in a doctor's office is unusual," she says. "But they make the patients feel better. … Kids, if they're afraid to be in the doctor's office, they will see the dogs, get excited, and forget where they are. People with dementia who are nervous when they come in the office, they become so busy petting the dogs they are not as concerned or worried anymore. For the most part, just seeing the animals, it's such a calming influence."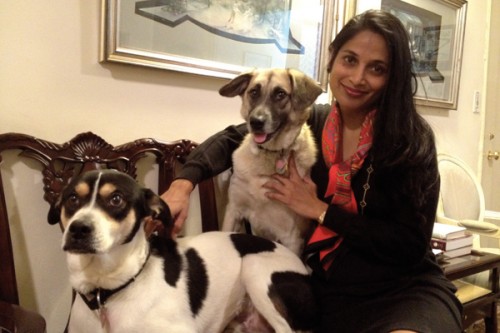 Attorney Kent Woods has experienced the calming influence his dog Walter, a 2.5-year-old Bulldog, has on his co-workers and clients firsthand. Woods specializes in tax, bankruptcy, and general courtroom representation at Woods Erickson and Whitaker LLP in Henderson, Nev. While conversations in his office are often about money, personal fortune, and conflict, which can get serious, "as a general matter, people trust people who have dogs," he says. "They know you have empathy and take good care of things. Generally, it helps people feel relaxed and at ease in their lawyer's office, and it relaxes the tension."
When it comes to the firm's 14 other staff members, Woods describes Walter as a delight to everyone. "They get a lot of the same benefits that I do," he says. "They get a good laugh every time Walter comes into their office, or begs for a treat, or asks to play tug of war."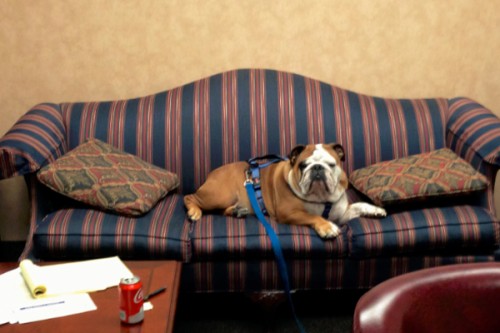 For Woods, the benefits are pretty simple, too. "It gives you something to talk about with your employees and your co-workers," he says. "It's relaxing to have him sit around. He tends to sit at my feet under my desk, which gives me peace of mind. It's like having your family with you all the time."
As much as we all love for our furry friends to smell fresh and clean, getting to that point isn't always easy. Dogs are rarely excited to jump into the bathtub for a good scrub. Bathing fearful dogs might be better handled by a professional groomer or your veterinary office. But if you decide to wade in, here are some helpful hints.
GETTING (YOU) READY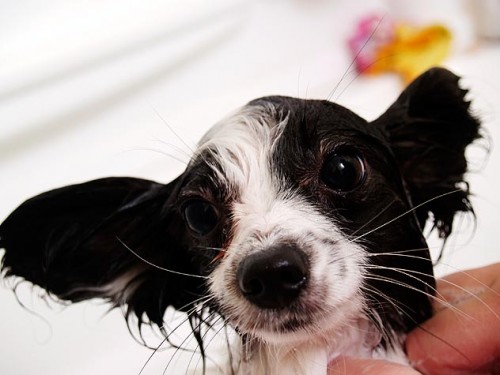 ThinkstockBe sure you're donning clothes that you're okay with getting wet and dirty (and furry). Move all your grooming materials into the bathroom shampoo (ask your vet for suggestions specific to your dog), conditioner (a must for longer coats that need to be brushed out), brush, mineral oil (for eyes), cotton balls (for ears), at least two big, absorbent towels and, most importantly, TREATS. Lay a non-skid mat down in the tub to help the dog keep his footing. If you don't have a detachable showerhead, a bowl or even a large cup is helpful in rinsing.
GETTING (FIDO) READY
Trimming your pet's nails prior to bath time will not only give your dog better footing, it will also help protect your skin in case he tries to make a break for it. Now, bring the dog into the bathroom and close the door behind you catching a wet, soapy dog running down your hallway is no easy task! Give praise and treats to make him comfortable in the bathroom before you try to get him into the tub. If you're able to, gently putting a cotton ball in each ear can help keep water out — just be sure to remove them when you're finished! Also, to help keep shampoo from irritating his eyes, you can put a drop of mineral oil in each one.
BRING ON THE SUDS
Dogs are unlikely to get into the tub willingly. For bigger dogs, a second person to help you get Fido into the bath can help avoid straining your back. Make sure water isn't too hot or too cold. Let your dog hear and then gently feel the water before going full-speed ahead with the bath. Start shampooing your dog's shoulders and then move out from there. Be gentle around the face and any sensitive areas but be sure you get down to the undercoat. Read the directions on the shampoo bottle carefully to ensure proper usage. Rinse out all the shampoo, using your fingers to make sure you get through the undercoat to avoid subsequent irritation. This is where a detachable showerhead or bowl comes in handy to be sure bigger dogs get rinsed thoroughly.
NO MORE TANGLES
After the shampoo has been completely rinsed out, you can apply conditioner, if desired. Follow the directions on the bottle because some products need to sit on the coat for several minutes. If you have a particularly squirmy dog, you'll want to find a fast-acting formula. Once you have finished the bath, it is time to dry your pooch. Towel dry as much as possible in the bathroom. For dogs with longer coats, you may want to use a blow dryer set on low. Before the dog leaves the bathroom, brush his coat out thoroughly because the bath will loosen up a lot of fur, which is better contained in the bathroom than all over the house. Many dogs get "after-bath-crazies," so hold onto your hat and let 'em run!