When I was planning my wedding around this time last year, I hemmed and hawed over including my beloved French Bulldog, Huggs. I've known him longer than my husband and he's been there for me every step of my last 7 years, so there was no doubt I wanted him included, but the reality was it just didn't make sense.
We traveled for our wedding and then headed out immediately for our honeymoon, but most importantly, the venue, an old house, with open doors to city streets, simply didn't feel like a safe choice for a curious bulldog. Add these concerns to a dog who likes to eat things off the ground and who talks loudly when being ignored and has general anxiety over new things, my husband and I decided it would probably be best if Huggs stayed at home. But just because Huggs wasn't there in person, didn't mean he couldn't be there in other meaningful ways.
Here are the 7 ways we incorporated Huggs into our big day:
1. We played this video for our guests at the cocktail hour. Since it was filmed ahead of time and at our house Huggs was a co-star. His debut happens in the middle of the video (around the 2 min mark and again at 3 min) for those who are just here to see the dog.
2. Wedding Website – Wedding websites are a great way to inform your guests about the day's events, but are also a great opportunity to let guests know a little more about the bride and groom and things that are important to them. We included all of the traditional items, our story, about us, about the day and photos of us, but we were sure to give Huggs a special gallery all his own.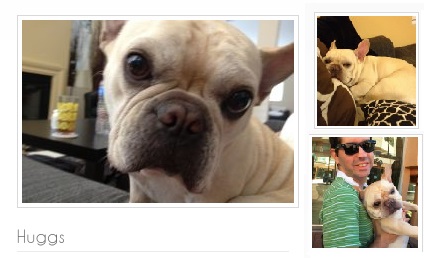 3. Engagement Photos/Guest Book – For our guest book we created an actual book featuring our engagement photos with space for people to sign. Since Huggs couldn't attend the wedding and be in those photos, we made sure he could be part of the engagement shoot and included his picture in the book.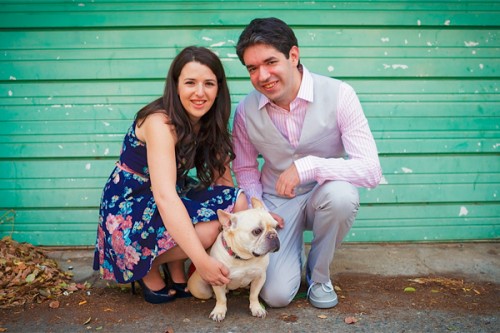 4. Photos Around the Venue – To make the event and venue more personal we added framed photos of ourselves and our family around to make it feel like our home. We have pictures of Huggs at home, so of course he was included in these as well!
5. Marriage Contract – In Jewish weddings it is traditional to sign a ketubah, a Jewish wedding contract. It is signed before the wedding and then displayed during the event and is ultimately hung in your home. who offers beautiful options featuring unique and custom artwork. We selected one of the pieces already offered, but had them add in a couple special changes; one of which was a drawing of Mr. Huggs sitting on the hills of our Dr. Seuss-inspired ketubah.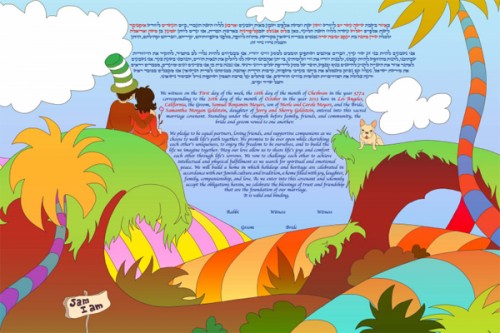 6. Wedding Speeches – Okay, so I had nothing to do with this one, but my dad very cleverly included advice that he "got" from Huggs in his speech to us at the wedding. I don't remember the exact words, but if it was actually advice from Huggs it probably included being sure to love, laugh and feed your Frenchie.
7. Cake Topper – Cakes and toppers have become more elaborate over the years, allowing brides and grooms to express their interests, passions and personalities. It's a great place to add in a nod to your dog! I made our cake topper using clay, but there are plenty of places to order custom options if you don't have the time to be crafty.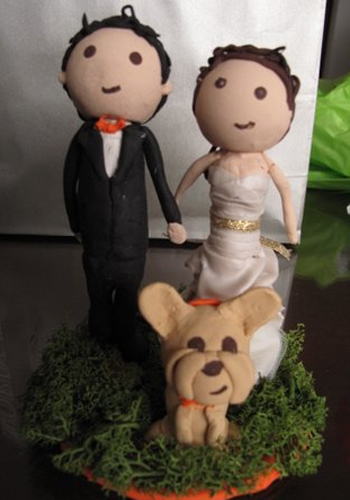 A few more ideas that we didn't do (sorry Huggs):
8. Include your dog in the invitations, save the dates or other paper goods like place cards, napkins and table numbers.
9. Theme your cake around your dog or include him in the design
10. Create a memorable wedding favor featuring your dog or give a gift that other dog-lover's would enjoy
11. Create a dog-inspired cocktail to be served, if we had thought of this, we would have called ours the "Warm Hugg."
With all these things added up, your dog can play a bigger part in the day then if he had walked down the aisle. Huggs got all the recognition he deserved while safe, sound and likely happier getting his snooze on at home.